McDonald Farms Enterprises Inc. (MFEI) owns and operates its Franklin Street Terminal, a truck to rail transloading, rail to truck, short term commodities, and long term warehousing facility in Denver, Colorado.
The rail facility is served by the Burlington Northern Santa Fe Railway, the Union Pacific Railroad, and Denver Rock Island Railroad, offering easy rail access throughout North America, including connections to Canada and Mexico. In addition, because of its location within one-half mile of the junction of Interstate 25 and Interstate 70, this facility allows easy truck access from any direction.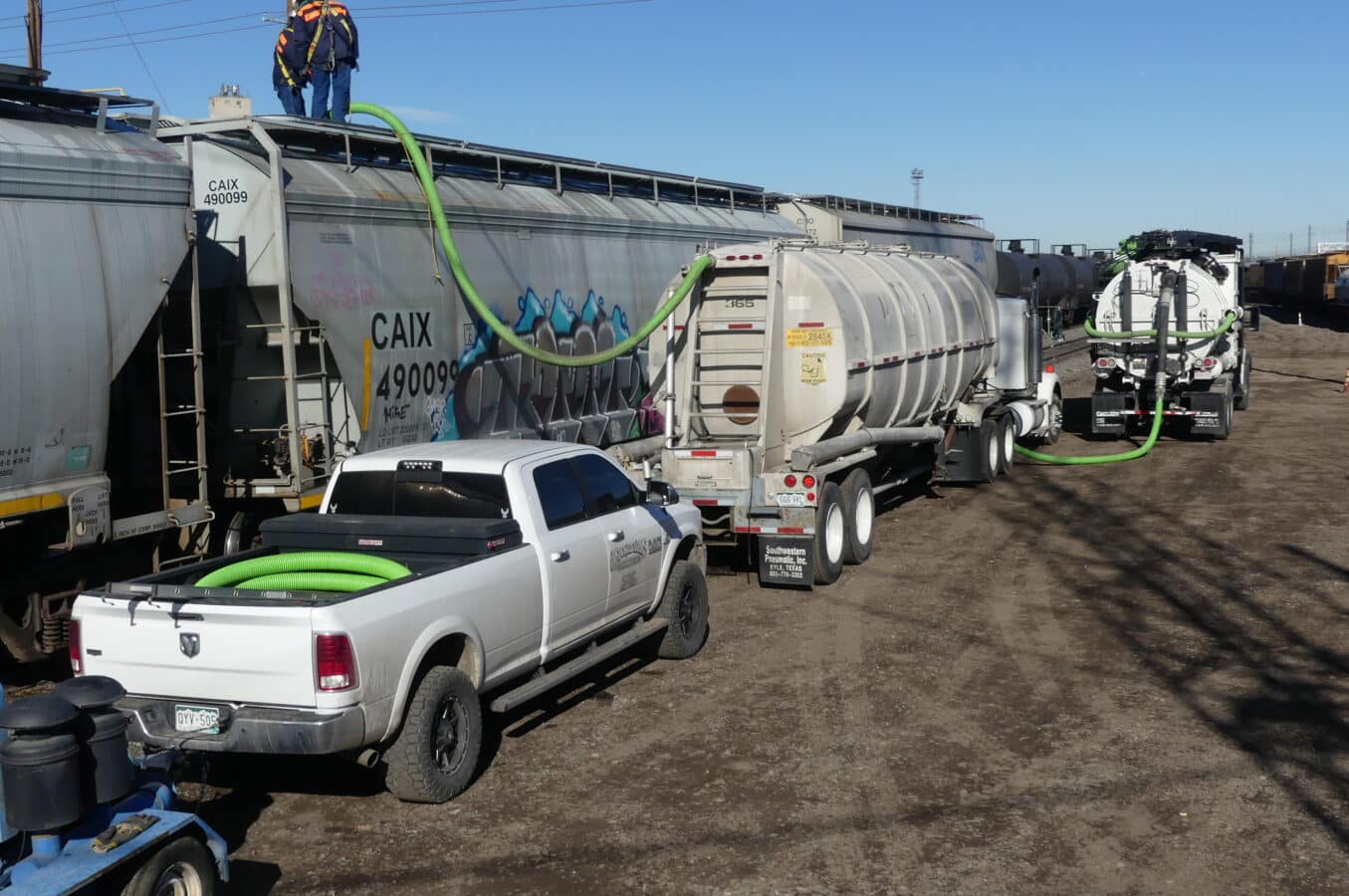 Who and where we are
MFEI has long-standing relationships with the Union Pacific Railroad, Burlington Northern Santa Fe Railway and Denver Rock Island Railroad.
Randall McDonald, General Manager, has over 40 years of railroad experience and is more than willing to discuss your company's railroad needs. Reach Randall or Kelley Anderson, Terminal Manager, by phone at 303-772-4577 or by e-mail.
MFEI's Franklin Street Terminal is located at 5300 Franklin Street, Denver, CO 80216. Located in North Denver, it has easy access to both Interstate 25 and Interstate 70.
On-site, Short-Term Storage Capability
Our Rail Trans-loading and Car Service facility has over four acres of land open for storage, including a large capacity for rail cars and materials. Specific capacity includes:
A track length capacity for 30 active rail cars with multiple customers spots
Storage silo capacity of up to 1,500 tons allows the transfer of dry bulk materials such as fly ash, cement, cement kiln dust, sand, and similar products
Eight acres of land for the open storage of oversized or bulk materials not needing covered protection
Kiewit Construction
Storage tanks for many liquids including inedible oils, bio-diesel, and food-grade or non-hazardous waste liquids
Boxcars, gondolas, open or covered hoppers, tank cars, and flat cars can be used to ship or receive finished and unfinished commodities
Full heavy dock service for truck transfers in addition to heavy equipment dock and ramp service
Our On-site Services
24 hours facility surveillance provided by NWP employees
Full facility security fencing
Electrical connections for 120v, 240v, 480v and 600 amp capacity equipment
Compressed air, freshwater, liquid waste disposal, heated and insulated storage tanks
Overnight truck parking and warehouse space for the re-packaging of commodities
Vacuum trucks for loading, unloading, or clean-up activities
Forklifts, cranes, pumping equipment, conveyors, car, pocket shakers, dust collection devices, air slides, & other unloading devices for almost all materials
Routine maintenance of rail cars and equipment
Certified welding, electrical and mechanical services by facility staff on truck or rail equipment
Liquid or bulk material sampling
A certified truck scale on-site
Equipment located on-site for switching of cars and movement of trailers
On-site tank car heater systems
Car cleaning (all types, including hoppers, tank cars, gondolas, etc.)
Dedicated Railcar Services
Construction near Denver Union Station will affect railcar parking facilities for several years. McDonald Farms Enterprises Inc. offers private railcar parking just north of downtown Denver. Serviced by BNSF and Union Pacific railways, the facility's services include:
Potable water
Waste pumping and disposal
Electrical service (110v, 220v and 440v) up to 500 amps
Number 2 diesel fuel
Propane and gasoline
Generator sets, electrical and mechanical routine maintenance services can also be provided.
Need more info? Contact us today!